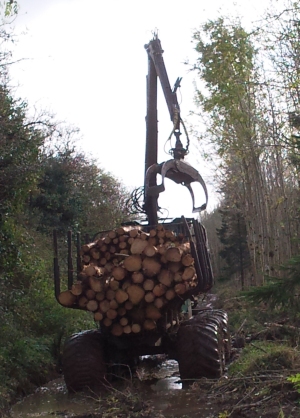 The Group Management Manual sets out guidelines for the Management of a Group for Forest Certification purposes.
Following the completion of this pilot project, documents used for the group certification project will be available on request for those wishing to set up a forest certification group.
Disclaimer: All templates and documents developed for this project were designed for use with the Irish certification standards valid at the time of the project. The templates featured in the Group Management Manual may require updating to ensure compliance with changes that came into effect after this project was completed. No liability will be accepted by DAFM or the project partners for the supply or use of these templates and documents. Forest owners are advised to get independent advice in relation to forest certification.
The Group Management Manual consists of the following documents:

Doc.00a Glossary
Doc.01 Group Rules - document setting out specific requirements members of the group have to comply with as defined by the forest certification standard.
Doc.02 Consent Form - membership application form and consent form in which group members agree to comply with Group Rules and agree to pay an annual membership fee for a minimum of 5 years.
Doc.03 Group Member Register - Record of details of group members and their forest holdings.
Doc.04 Group Corrective Action Request (CAR) Record - List of Corrective Action Requests identified for the group that have to be addressed following pre-assessment visit or audit.
Doc.05 Group Member Training - a speadsheet for recording training undergone by group members.
Doc.06 Group Personnel Training Record - Record of training certs and qualifications.
Doc.07 Forest Data - Record of details of member forests within the group.
Doc.08 Audit Checklist - checklist used by Auditor and Group Manager when inspecting member forests as part of an Audit or pre-assessment visit.
Doc.09a Audit Plan - typical letter prior to audit detailing audit date, time and place.
Doc.09b Audit Report - List of findings (Non-Conformities (NCs) and Observations identified at Audit with CARs.
Doc.10a Membership Decision Record - Form used by Auditor to decide on acceptance of member to Group.
Doc.10b Confirmation of Membership - Copy of a typical confirmation letter when accepted to group.
Doc.11 Suspension/Withdrawal Notification - where member is in breach of group rules and certification standard.
Doc.12 Complaint Record - record of any complaints received and how they were dealt with.
Doc.13a Stakeholder List - List of National and Local stakeholders to be circulated with Stakeholder Consultation details.
Doc.13b Stakeholder Site Notice *) - Example of a typical Site Notice to be placed at forest entrances at time of Stakeholder Consultation.
Doc.13c Stakeholder Briefing Information - Short note explaining when and for what time period Stakeholder Consultation will be undertaken throughout the forest certification process.
Doc.14 Sales Information and Trademark Use - Information on the use of Trademarks. The use of trademarks is very specific for each forest certification scheme. For more information see www.fsc.org and www.pefc.org
Doc.15 Company Structure & Roles (see also Group Structure)
Doc.16 Annual Monitoring Report - record of activities over past 12 months, any changes to FMP, incidents, etc and planned activities for next 12 months.
Doc.17 Certification Process Flow (see also Group Certification Process)
Doc.18 Documentary Requirements for Forest Certification in Ireland
*) Guidance on Placement of Site notices, can be found in the Forest Service Circular 15/2017 Placement of Site Notices

Additional Resources relating to Group Certification:
For additional information on forest management certification for groups as defined by the forest certification schemes, see www.fsc.org and www.pefc.org